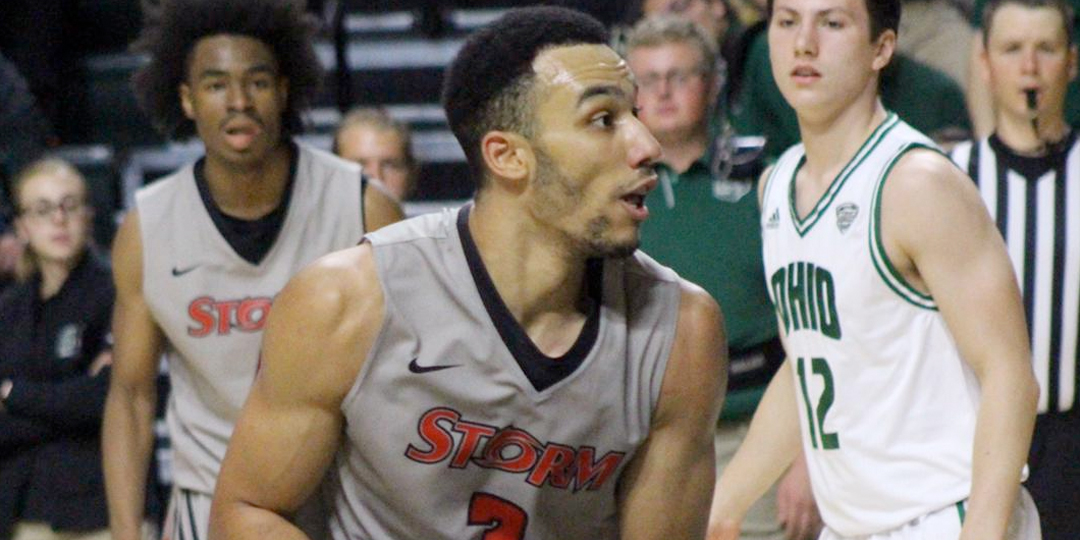 I started taking basketball seriously at the under-15 level and one of my earliest memories was when I met Neal Hopkins and some of my future Myerscough teammates — Kyle Elly and Alex Roberts — at a Regional Performance Centre.
I had grown up on the rugby pitch, which is where some of my teammates got me into basketball as they played it and I decided to join their team.
My journey since Myerscough has taken me to Western Wyoming Community College, Saint Leo University and the University of Rio Grande where I not only played basketball, but received an education.
MYERSCOUGH PREPARED ME FOR THE DEMANDING SCHEDULE OF BEING A COLLEGE ATHLETE. It can be extremely difficult to be able to stay on top of your university assignments, as well as having multiple training sessions per day. However, this was something that I had already experienced at Myerscough, so I was better prepared to handle it.
• • •
MYERSCOUGH HELPED MAKE THE TRANSITION TO AMERICA MUCH EASIER. Myerscough has a lot of similarities to the American programmes that I have been a part of. Living on campus in Preston helped me get used to being away from my family and become far more independent. The training intensity at Myerscough was something that I hadn't previously experienced in England. Going through all the early morning workouts, training sessions and lifting weights was invaluable preparation for what I would experience in America. All the teams I have played on in the US have had similar training intensity to Myerscough, so when I got to America the training schedule was not as much of a shock.
• • •
I HAD TO EARN EVERY MINUTE OF PLAYING TIME I GOT. In my first year in America, the toughest adjustment for me was realising that I was not one of the best players on my team anymore. Coming off of an extremely successful year at Myerscough it was hard to start at the bottom again and be lower down the pecking order. Once I accepted my role, I was able to make far more improvements on my game and contribute to the team.
• • •
I HAD TO EVOLVE AND IMPROVE OTHER PARTS OF MY GAME. Playing against American competition, a lot of the players were just as, if not more, athletic than me. This was something that I often relied on when I was playing in England, but to move on to the next stage of my collegiate career I had to get better at the things I was already good at and add new traits.
• • •
BE A GREAT TEAMMATE. In my experience, this is one of the things that is most sought after by American coaches. When watching game film, coaches will look at the bench to see if the players are engaged in the game. Make sure you are locked in at all times because coaches are watching what you do both on and off the court. A lot of players focus on individual statistics like points per game, but being part of a winning team and having a winning mentality will not go unnoticed by coaches.
• • •
ACADEMICS ARE AN EXTREMELY IMPORTANT PART OF THE GAME IN AMERICA. First and foremost, you have to make sure your grades are good enough to be eligible to play. It's a great opportunity to be able to play the game of basketball and earn a degree at the same time, so I just wanted to make the most of it and do the best I could. Unfortunately, basketball doesn't last forever, so I think it's important to have a degree to fall back on.
• • •
I SILENCED THE OHIO UNIVERSITY CROWD. My favourite moment of my college career was from a game this season against the Bobcats, who are a Division I team. We were on the road in their arena and the crowd was very loud and hostile towards us. In the game I got an "and one" dunk over one of their players and the whole crowd was silenced, all you could hear in the arena was me and my teammates celebrating the play.
• • •
LIVE IN THE MOMENT. It seems like only yesterday that I first arrived in the States. Your collegiate career goes by incredibly quickly, so make the most of every single opportunity while you can.
• • •
NEAL HOPKINS' DRIVE PROVIDES A PLATFORM YOU CAN'T GET ANYWHERE ELSE IN THE UNITED KINGDOM. His vision for the Academy is what has made it so successful year in and year out, and that goes far beyond just winning. Neal's work ethic and drive to improve Myerscough each year is a big inspiration to me and the growth has been outstanding, with additions like the new facility and inclusion of European competition.
• • •
THE 2015 EABL CHAMPIONSHIP TEAM WAS SUCCESSFUL BECAUSE OF OUR CHEMISTRY. We were all focused on winning and no one was bigger than the team. I made many great friends that year who I'm still in contact with four years later.
• • •
BASKETBALL HAS OPENED SO MANY DOORS. It has been a great experience living in very different places. I've lived in Wyoming, Florida and Ohio during my collegiate career and the sport has given me experiences that I would never had without it. I'm sure that the Myerscough student-athletes who have had the opportunity to play in Europe can relate to this as well.
• • •
REACHING A GOAL IS JUST THE START. It took a lot of work to get to America — The hard work doesn't end there. As a collegiate basketball player you have to work extremely hard. Coaches expect a lot from you in training sessions and that you are putting in extra time on your own.
• • •
I HAD TO PROVE AN ENGLISH STEREOTYPE WRONG. A lot of people had a hard time understanding that I was from England, but not from London. Many Americans I met associate the whole of the U.K. with London.
• • •
IT MEANS A LOT TO SEE MY HARD WORK PAY OFF. I've put in a lot of hard work on the court and in my studies and I've been able to make the most of the opportunities I've been given.
—with Allen Gunn
---
To find out more about basketball study programmes available at Myerscough College, and to apply, click here.
@My_bball | #MySco