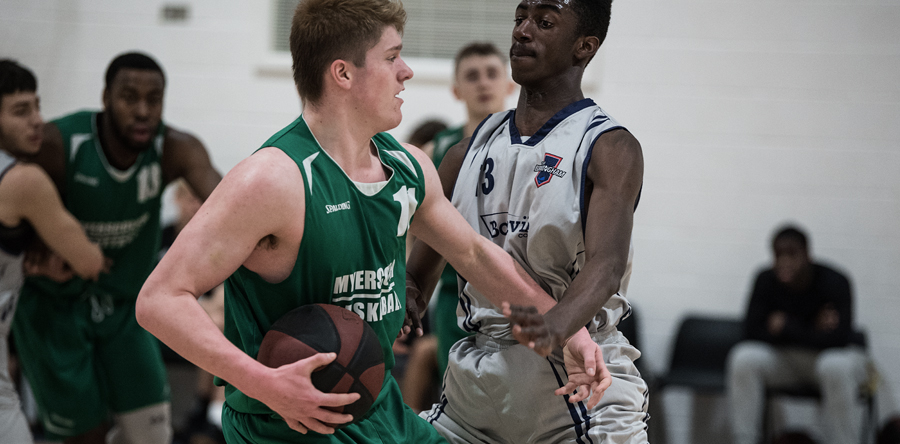 PRESTON — It's simple: Callan Low likes playing against James Watt.
Low followed up a November performance at James Watt, which earned him Elite Academy Basketball League Player of the Week honours, with a season-high 27 points in a 99-63 blowout win on Wednesday.
"They're a big team and I tend to play well against bigger and stronger players, and I've been up to the challenge each time we've played them," he said. "I'm really looking to continue improving on all aspects of my game — inside and out — to become more of a versatile threat."
Low hit five of his six 3-pointers in the fourth quarter whilst Myerscough connected on 16 as a team and shot an incredible 47 percent from distance to dispatch James Watt for its fourth league win in a row.
Myerscough, who had hit just one 3-pointer up to the seven minute mark of the second quarter, then exploded for five consecutive threes as part of a 17-0 run that broke open a 24-23 game. James Watt was held scoreless for nearly four minutes, as Myerscough racked up six threes in the quarter and never looked back.
Konrad Kantorski — his initial three sparked the second quarter run — finished with 18 points and Mate Okros chipped in 16 for Myerscough (7-1), whose largest deficit of the game was one point.
Following a fast start, James Watt clawed back its early deficit and an 8-0 run lifted the visitors into a 17-16 lead. That, however, was short-lived as Low restored Myerscough's advantage on the next possession.
"We know that we can put points up on the board," Myerscough coach Neal Hopkins began, "but ultimately it is about getting stops as our defence is what carries our offence in the majority of games."
Daniel Penkov, who scored 35 points against SGS College two weeks ago, was held to just 14 points. Malanga Sonko added 12 for James Watt (3-6), which shot 34 percent and hit just one of 25 attempts from 3-point range in the loss.
NOTES: Low recorded his second double-double of the season … Both coming against James Watt College … Tied a personal best 12 rebounds … Set season-highs in made field goals (10), made 3-pointers (5) and assists (5) … Del Cadia recorded his fourth double-double of the season … Kantorski had a season-high 6 assists … Has hit at least four 3-pointers in six of eight games this season … Myerscough's 16 made 3-pointers is second most this season … Hit 18 against SGS College on Oct. 18 … Has a 4-0 record when shooting better than 40 percent … Grabbed a season-high 42 defensive rebounds as a team … Second consecutive game with 20-plus assists (24) … Had a season-low in steals (4) and points off turnovers (8) … All ten players that saw action for Myerscough scored at least two points.
UP NEXT
Myerscough hosts Allerton next Thursday at the High Performance Centre.
@My_bball | #MySco