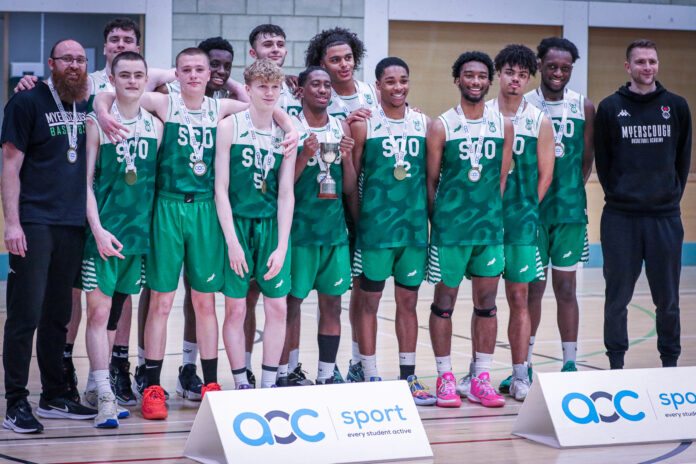 Wolverhampton – Ben Prince scored 22 points as Myerscough powered past Richard Huish College 70 – 52 last week to claim its fourth AoC Knockout Cup crown after a two-year hiatus due to COVID-19. In a rematch of the 2019 final, Myerscough won each quarter and led by as many as 20 to add to its titles from 2017, 2018 and 2019.
Lewis Smith dunked the ball home off the opening tip and signaled Myerscough's intent in their return to the Championship game for the first-time, post-pandemic. After a back-and-forth opening quarter, it would be Myerscough that held a slim lead 15 – 12.
This theme, true of a final, continued throughout the second quarter as Richard Huish hit back anytime Sco' gained some momentum. However, a 9 – 0 burst led by Ben Prince catapulted Myerscough to its first double digit lead and a 36 – 27 halftime advantage.
Richard Huish would get as close as five with two minutes left in the third quarter before three-pointers from Johnstone and McMahon sandwiched a 15-point tear that saw Sco' ahead 58 – 38.
A final roll of the dice from Huish would see the deficit drop to eleven before Myerscough held its opponents to a single field-goal in the last five minutes of the game to run out comfortable winners.
Calum Johnstone and Louis Farish would finish with 13 and 11 respectively for Sco' whilst Masca 20 and Pattemore 19 would lead Richard Huish.
Myerscough now looks ahead to two further championship games as they compete in the Dynamik Schools U17 and U19 Men's National Cup finals this Friday (13th May), 12pm and 4pm at the National Basketball Performance Centre in Manchester.
#MySco