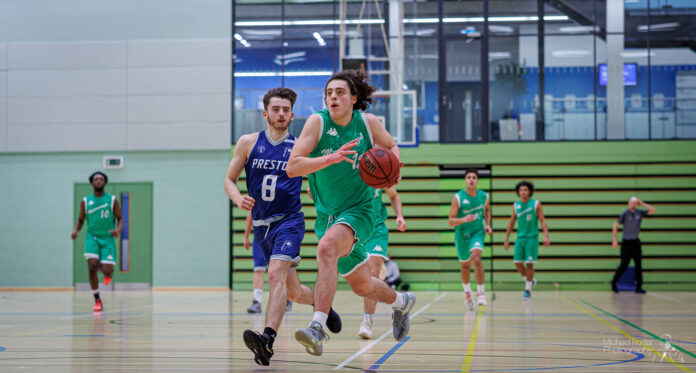 PRESTON – Aryan Davoodi sank two game winning free throws to give Myerscough a one point victory (75-74) over local rivals Preston Basketball Club in Division 3 on Saturday afternoon.
Myerscough who were heavily beaten by Preston earlier in the season demonstrated their development under Coach James Jones in the closely fought fixture.
A balanced scoring effort typified the effort from Myerscough who saw valuable contributions from Taylor Campbell (15 points) Ben Prince (11 points) and Charles Copeland (10 points) in the victory.
"It's a very important win for us, I think we can still work and improve in some aspects of the game. After the Christmas break we started to work very well in training, we have to continue like this. Now focus on the next game" Said Myerscough guard Filippo Renna, who led with 20 points.
Elsewhere
Division 2 Men – Despite holding a 16 point 3rd quarter lead, Myerscough slipped to an agonising 1 point loss to a resilient Chester University, 76-77.
Bryan Akanmu once again led the way for Myerscough with a huge 20 point 16 rebound double double but it was Chesters Joe Kincaid who stole the show, the guard came up with play after play in the second half on his way to a game high 27 points.
"It is hard to not be disappointed" Said Myerscough Head Coach Neal Hopkins "We were in a great position to win the game but we let frustration get the better of us, Chester fought the entire way and showed a great amount of resilience, something that we lacked at critical points".
Myerscough move to 7 & 7 in league play ahead of a double header next weekend (Nottingham Sat, Bristol Sun).
Under 18 Premier – Myerscough were unable to overcome a 12 point half time deficit against St Helens, eventually falling to a 75 – 68 loss.
A second half fight back, led by Calum Johnstone's 18 points was kept at bay by St Helens who deservedly took the victory, denting Myerscough's play off hopes.
Under 18 Conference – It was a pair of wins for Mike Bernard's men, who were back to their best in the Northwest Under 18 Conference.
Jamie Lambert collected 21 points, whilst Nathaniel Taylor had a season high 15 points in Saturday's 84 – 46 road win over Barrow Thorns.
It was then a 79 – 43 win over Liverpool on Sunday to cap a great weekend for the hard working squad.
@My_bball | #MySco
Image Credit: Michael Porter Photography