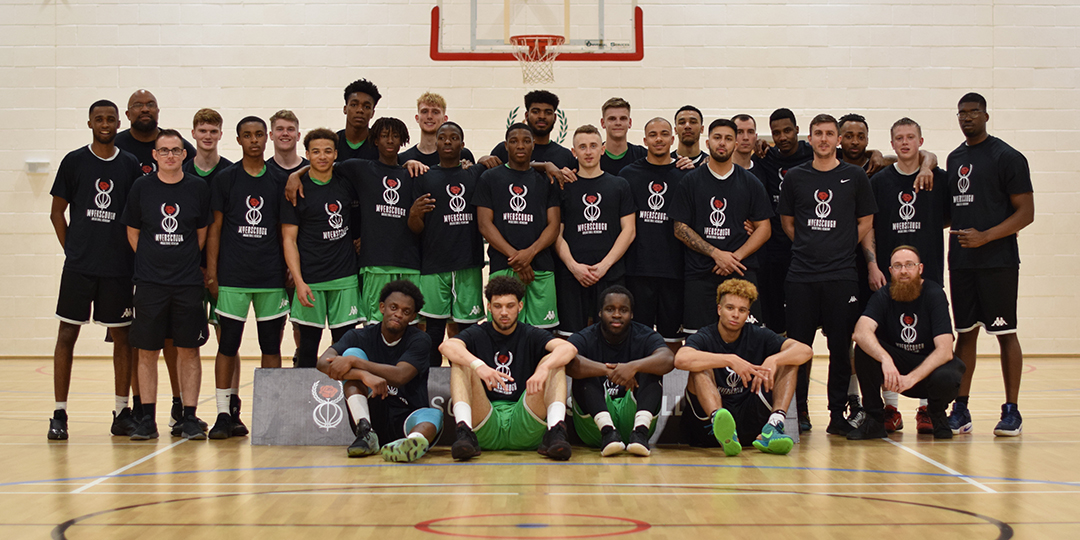 PRESTON – Myerscough hosted its first annual Alumni Game on Saturday afternoon.
Alumni dating back to a trio of 2014 graduates — Andre Gayle, Trevor Samuel and James Harvey — took to the court inside the High Performance Centre against a team of current Myerscough student-athletes.
The event kicked off with a community session for under-16 boys and girls before an in-house 3×3 Tournament, which included a number of alumni joining in.
The showcase event, won 94-71 by the Alumni, was full of highlight dunks and frenetic play. Former No. 1 DENG Camp prospect Kyle Carey (Class of 2016) scored a game-high 19 points and made a big two-handed slam in transition to get the crowd on its feet.
Former EABL Conference Player of the Year Gayle hit four 3-pointers adding 14 points and Earl Russell, who recently signed his first professional contract with the BBL's Glasgow Rocks, had 13 points. Samuels chipped in 12.
"It's good to be back and see some old faces," said Russell. "There's a lot of talented players to come out of Myerscough and it was great to be able to build some history with them when we were here."
Konrad Kantorksi, who captained Myerscough to a historic Division 3 treble in 2018, was the most recent graduate to feature for the Alumni. The Scot helped City of Edinburgh defend its SBC Playoff title back in March when he hit a late clutch three-pointer.
"Even if you don't know the guys who played before you, you're still friends because you know you belong to the same place," said Kantorski. "It was cool to see everyone staying competitive during the game and wanting to win just like everyone at Myerscough always has."
"I've not been in a basketball environment in a while so it felt good to be back and see former teammates and coaches," said Raheem Idris. "We all came out with an edge — we didn't want to let the younger generation get one over us so we came out fighting."
Sam Keita and Mate Okros each had 12 points for the current Myerscough team, which competed in the European Youth Basketball League this past season. Lewis McGlasson scored 10 and Jamie Gray added eight.
Myerscough Alumni Team: Class of 2014 – Trevor Samuel, Andre Gayle, James Harvey. Class of 2015 – Earl Russell, Dave Walsh, Yugo Jeng, Emmanuel Kabengele. Class of 2016 – Kyle Carey, Kyle Elly, Raheem Idris. Class of 2017 – Zion Tordoff. Class of 2018 – Konrad Kantorski.
---
To find out more about basketball study programmes available at Myerscough College and to apply, click here.
@My_bball | #MySco