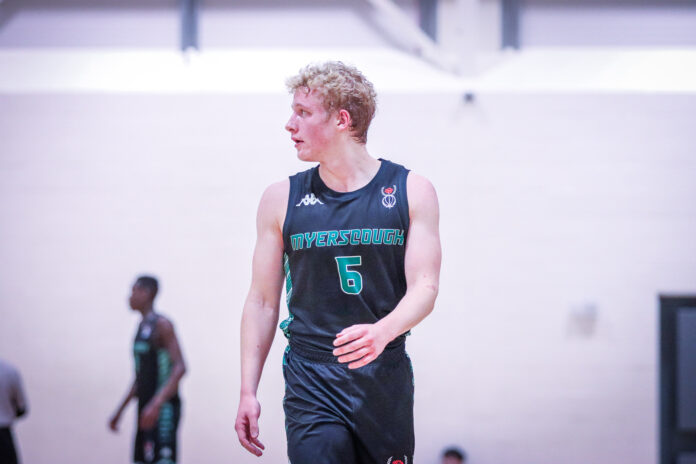 Loughborough – Myerscough completed the regular season sweep over Charnwood College in a tightly contest 80 – 86 win on Saturday.
Charnwood hit first and jumped out to a 5 – 0 lead before Bryan Akanmu settled Myerscough with a jump shot in the lane. It was Charnwood who would hold a slim 3 point advantage after the first period.
A back and forth second quarter would see both teams exchange runs, Myerscough held a 4 point advantage with 2 minutes to go in the half, only for Charnwood to explode for a 10 – 0 run to lead 47 – 41 the break.
Myerscough closed the gap quickly in the 3rd, as Sam Cheshire and Euan Birch connected from beyond the arc in quick succession. Charnwood would struggle to find their scoring rhythm, as Myerscough would head into the 4th with a 2 point gap (62-64).
Myerscough were able to build on their lead in the final quarter to hold a 7 point lead with 2 minutes to go. 2 missed free throws from Myerscough would hand Charnwood the opportunity to close the gap, the home side would hit from down town to cut the game to 4 points. A lay up from Charnwood following a Myerscough miss saw the lead shrink to 2 points with 50 seconds left.
With ice in his veins, Sam Cheshire knocked down a dagger 3 pointer to give Myerscough a 5 point lead with 18 seconds remaining, Bryan Akanmu would split from the line to give Myerscough a 80 – 86 advantage, Charnwood came up short on their last possession, as Myerscough would walk away with a well deserved victory.
"It really was a game of two halves, Charnwood executed very well through the first 20 minutes", said Myerscough Head Coach Neal Hopkins, "Our second half performance was excellent, we knew we had to land the first punch in the 3rd, which we did. We rushed a little down the stretch, which made for an exciting finish but it was a game we deserved to win, I am really happy for the guys", Hopkins Continued.
Bryan Akanmu would add to his 39 points against Charnwood in the EABL to lead with a game high 26 points, Pedro Ellery and Juelz Robinson collected 13 points each, whilst Ridley Shema chipped in with 12. Victor Ndoukou and Louie Jordan would add 24 and 22 respectively for Charnwood.
Division 3 Men – Toni Shoyoye would lead a well rounded team performance with 13 points in a 73 – 56 win away at Tameside.
With all 11 players scoring for Myerscough, James Jones' team would collect their 4th win in a row as they look to close the season on a strong run.
"I'm proud of the team as we stayed strong and executed well throughout the game. Because of my teammates I was able to find my rhythm straight away and help lead us to the win", said Shoyoye.
@My_bball | #MySco