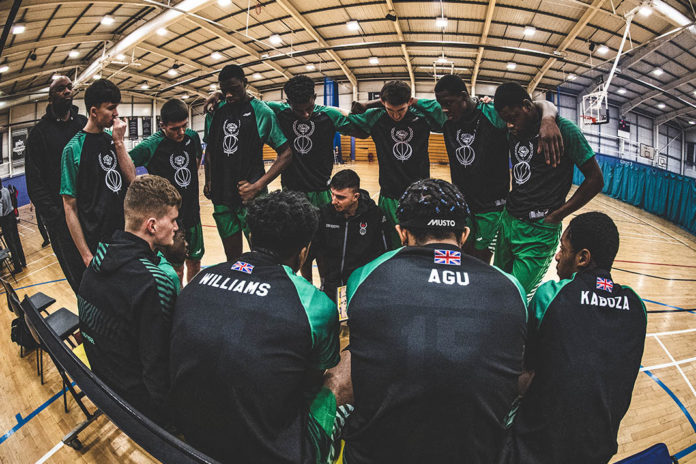 PRESTON – Myerscough claimed its fourth EABL North Conference Championship with a 14-0 record, marking the second time the Academy has gone unbeaten on the way to the regular season title, and a No. 1 seed in the playoffs.
Sanmi Fajana's game-winner from the corner on Thursday sealed the perfect season and capped off a 22-point comeback win over Derby. Fajana, who posted his second double-double of the year (22 points & 13 rebounds), was the ninth different leading scorer for Myerscough during the 2019-20 season.
Myerscough went seven games into the league schedule before having a repeat leading scorer, which came when Bradley Kaboza carried the team past James Watt College on Dec. 3.
Kaboza — ranked first on the team at 15.9 ppg — led the Academy in scoring on four occasions, posting two 30-point games in wins over Charnwood College. The 6-foot-2 guard was the only player to go back-to-back games as leading scorer (Jan. 8 vs. Sheffield and Jan. 15 vs. Charnwood).
Six players, including Kaboza, averaged double-figures scoring for a Myerscough team that outscored opponents by a 31.7-point margin. Amari Williams ranked second at 13.6 ppg on 59.9 percent shooting to go with a team-best 9.3 rebounds. The forward led Sco with four double-doubles.
Lewis McGlasson led Myerscough in made 3-pointers (23) and averaged 11.6 points. The 6-foot-4 third-year guard had seven multi-three-point made games, hitting at least four three times.
First-year combo guard Great Osobor added 12.6 ppg to go with 7.8 rpg – both ranked third on the team. Second-year guard Mikey Irvine continued his rise through the Academy, contributing 10.1 ppg on 50.8 percent shooting, which included over 45 percent from beyond the arc.
Myerscough leaned on a front court that outrebounded its opposition by a margin of 19 per game, including +6.9 at the offensive end. Franklin Agu was one of six to average at least five rebounds per game, grabbing nine on his own to go with 9.3 points.
Throughout the season, Myerscough flexed its depth with 22 players seeing action in the EABL. There were only 12 20-point games — four came in the win on Dec. 11 vs. Newcastle — and just three 30-point games — Kaboza accounted for two and Osobor had one.
Half of Myerscough's six players — Osobor, Irvine and Joe Heyes — averaging double-figures scoring were all playing in their first seasons in the EABL.
Myerscough hosts No. 4 Canterbury on Feb. 26 at the High Performance Centre at the Preston-based campus, with tip off to be determined.
@My_bball | #MySco