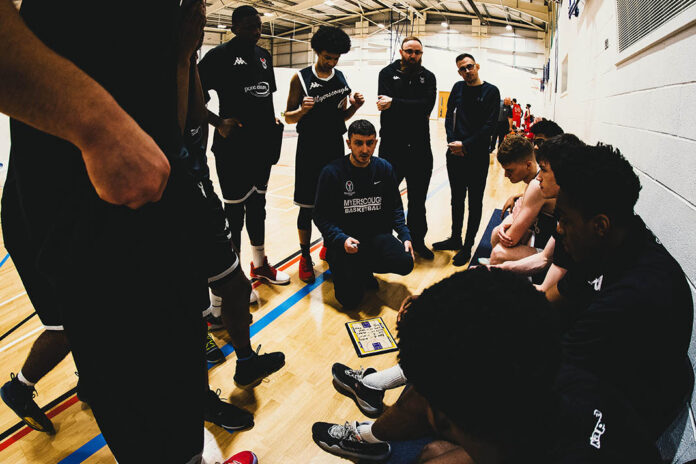 PRESTON – Myerscough Head Coach and Programme Director Neal Hopkins announced on Thursday via Twitter both his battle with cancer – and, in the same breath, that he is in remission.
Hopkins, who had been largely private about his battle, was kept off the sidelines for a majority of the 2022-23 season. He will return in September.
The outpouring of support from the British basketball community has been immense from colleagues and fellow coaches, to current and former players, and total strangers.
He said via Twitter:
"It's always a lot easier to give people good news! 
After a 7 month journey with cancer (to my absolute shock) I've been told that I'm in remission, meaning I have no active cancer cells in my body.
Back in November I noticed that something wasn't right, I had a cough I couldn't shift, when I was playing basketball or going to the gym I could never catch my second wind and my heart rate was really high, I just felt off. To add to this I started to develop a really irritating itch in my legs which would not go away (they call it the hell itch). I did nothing, felt off but nothing too bad. Into December and the itch got worse, it had spread, so I went to the doctors who prescribed the usual creams, this obviously didn't help! 
During December, my health deteriorated. I had my usual onset of end of term illness (which typically comes and goes in a few days) but this was different and persistent. I was sick almost every time I stood up and had started to lose weight (eventually 10kg), the itch was getting awful and I generally felt terrible, so back to the doctors who request my bloods were looked at.
Low and behold, almost every marker was high and just after Christmas I was told that I was going to be on a cancer referral pathway, just to be on the safe side!
At the beginning of January I had a CT Scan, went to get the results, I had a 7cm tumor next to my heart.
On the 23rd of January I had PET CT scan where they put a dye into your body which illuminates those bad cells, the mass in my chest looked like the sun, and I had uptake in the nodes in my neck, there was no diagnosis but suspicions.
From January to the start of chemotherapy in April I went through it. It was the hardest time of my life. I had two failed biopsies leading to major surgery where they removed the now 10cm tumor from inside my chest, it took until the beginning of April to get a diagnosis, I was told I have a type of blood cancer called Hodgkins Lymphoma, stage 2. The process was awful, all the while I was still losing weight and had developed intermittent night sweats. I kept it together but went to some dark places and certainly had some episodes of self pity, it was hard and something you cannot prepare for.
My chemotherapy started in April, with infusions every two weeks. I had a follow up scan last week and was told on Tuesday that it's working, and I'm in remission. I was back in the chemo chair yesterday and have 3 infusions left to get this done but I can finally see the light at the end of a tunnel that was often difficult to see out of.
My life has been changed significantly through this and I know I have a long way to go. I'm lucky I caught it early and that my body has responded the way it has to treatment. I know how fortunate I am.
To the most part this is something I've dealt with privately, I certainly didn't want a fuss or to burden people with bad news. I'm extremely appreciate of the support I've had from my those close to me and apologies to those who will be shocked to read this, the main thing is the news is GREAT and I'm moving forward.
Without plowing into clichés and my learnings  all I can say is don't take normal for granted, I can't wait to feel normal again!"
@My_bball | #MySco