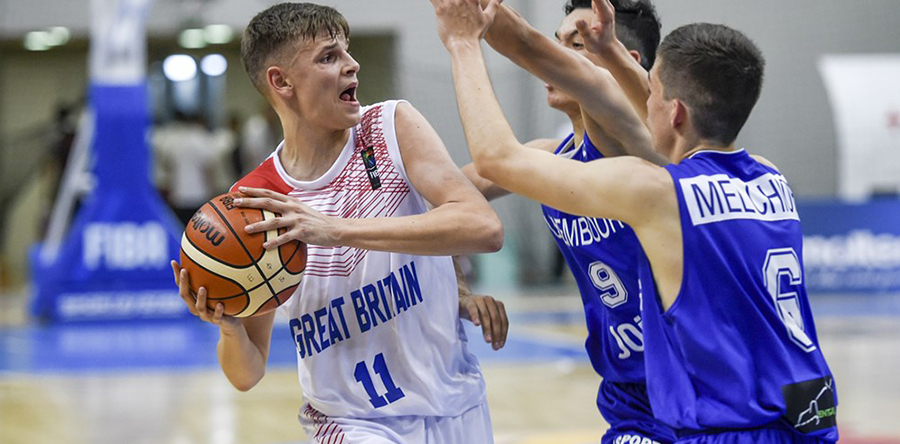 A quick glance at Myerscough Basketball Academy's incoming Mate Okros is all it takes to see a consistent air of determination fitting for a leader that doesn't back down.
On the hardwood, the 16-year-old Okros displays the resiliency it takes to be captain of the Great Britain Under-16s, with fluidity on and off the ball there's also accountability, and it is easy to see why he's touted for a successful career.
Okros, the 6-5 shooting guard and son of Hungarian parents, let loose at the 2017 FIBA U16 European Championships where he averaged 17.1 points on 49.5 percent shooting and 5.8 rebounds in eight games, which led to recognition by ESPN basketball writers.
And despite a losing effort, which saw Great Britain narrowly miss out on promotion to Georgia, Okros turned in a show-stopping performance as he capped off his tournament with 25 points.
"I didn't feel much pressure to perform as I was prepared," said Okros. "Obviously the defeat hurt and I'll definitely reflect on the game, but I try to take the positives and what I can develop on.
"I learnt that it's not all about being physically fit to last the whole tournament — it's more about being mentally strong and having the right mentality in situations."
Okros' contributions were up significantly from his debut at the competition in 2016 — averages of 11.1 points and two boards per game — and that is on a Great Britain team with depth and experience at the position.
A team he was entrusted to be captain of by the coaching staff.
"Having the trust from the coaches gave me a boost in my confidence knowing that the whole team believed in my abilities to lead," said Okros. "I knew I had to be the second coach on court."
That intuitive mindset meant that if there's space on the floor, Okros will find it. If there isn't, he has a knack for creating it with his speed and ability to skip around defenders and that opens up his teammates.
Aside from his scoring prowess, Okros added 2.3 assists per game at the European Championships this past August in Bulgaria. But it didn't matter whether he directly affected the basket, he emphatically celebrated any make by his teammates.
"He shoots the ball at such a high level that it opens up different areas of the game for himself, but also his teammates," said Great Britain head coach James Vear. "I have coached at all levels and he's as professional as they come.
"He gets not only what it takes on the court but does everything he can off it to put himself in a position to be successful."
It comes across as a minor point here, but Okros, according to Vear, commands the full respect of the locker room.
"When he talks the players listen," Vear added of his young captain. "He grew into the role too, as we identified this was an area we wanted to develop — he certainly did that."
Okros had an efficient performance against Macedonia, scoring 22 points in just 19 minutes, including going a perfect 6-of-6 from 2-point range. And he shot below 40 percent from the field once during the tournament whilst converting 39 percent of his attempts from 3-point land.
Often drawing the toughest coverage, he said, "I like to move off the ball constantly using screens to wear my defender down and when I receive the ball I have an advantage over the defender as they will be tired and attack the rim or look for a shot."
Okros may have widened the eyes of the international basketball community with his showing at the European Championships, but he's insistent on developing even further.
"I don't really focus on expectations I just play like I usually would, focusing on what can make the team successful," Okros said. "I've learnt to never be satisfied in any situation."
Photos courtesy of FIBA.
@My_bball | #MySco