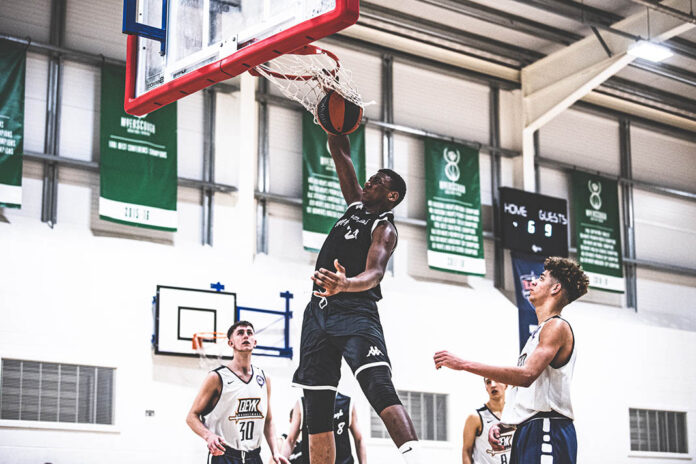 PRESTON, England — Myerscough Basketball Academy forward Great Osobor announced on Thursday his commitment to NCAA Division I programme Montana State University.
Osobor, who had interest from UNC Greensboro, UTSA and Princeton, also received an offer from Drexel where Myerscough alum Mate Okros (Class of 2019) and Amari Williams (Class of 2020) are currently based. He becomes the second player in the programme's history to select the Bobcats after Bradley Fisher (Class of 2014).
"Seeing all the hardwork I've put in be rewarded with my commitment to a Division I school is what motivates me to stay focused and keep pushing," said Osobor. "Being at Myerscough has been a really good situation for my development as I was able to learn from elite players and leaders like Amari [Williams] and Bradley [Kaboza]. They showed me how to have an impact in different ways."
Montana State, which is a public university located 98 miles from the state capital of Helena in Bozeman, was the first to offer the Class of 2021 product. The Bobcats have strong ties to the British basketball community through former Great Britain national team player Chris Haslam, who serves as an assistant under head coach Danny Sprinkle.
Sprinkle – a former Big Sky Freshman of the Year – is entering his second year at the helm of his alma mater where he posted a 16-15 record overall and a 10-10 mark in conference play during the 2019-20 season. The 44-year-old and Pullman, Washington native got his start in coaching as an assistant with Cal State Northridge (2000-06, 2008-13) and Cal State Fullerton (2013-19), as well as Montana State (2006-08).
"Every single one of the coaches has taken time to reach out and build a relationship with me on a level outside of basketball – they've been amazing throughout the recruitment process," said Osobor. "Coach Sprinkle really seems to believe in me being an impact player from the beginning and Coach Haslam has done a great job staying in contact with me and showing that he cares. I believe Montana State will be able to help me continue to develop and take me to the next level on and off court."
Osobor is coming off a year where he played a key role in Myerscough's success in the run to a European Youth Basketball League regular season championship, an Elite Academy Basketball League conference and co-playoff titles and a runner-up finish in NBL Division 2. The 6-foot-7 forward had an 18-point and five-rebound breakout game out in Europe against BC Liepaja back in December 2019.
The 18-year-old, who arrived at the Preston-based Academy as a guard, has started his transition to the frontcourt and in early season action against Division 1 competition in England, he posted a 15-point and 11-rebound double-double.
"By just being surrounded by a great staff and great players at Myerscough, it has helped me improve a lot to the point where I am today and in the next eight months — by god's grace we should still have a season — I want plan to continue to get better and to keep being a leader of this Academy. My aim to get as ready as I can for the next level," said Osobor.
Osobor becomes the third member of Montana State's 2021 recruiting class, joining the American trio of Alex Germer (6'4 G – Sentinel High School), Sam Lecholat (6'6 SF – Sheridan High School) and Patrick McMahon (6'6 SF – Colony High School).
---
To find out more about basketball study programmes available at Myerscough College, and to apply, click here.
@My_bball | #MySco