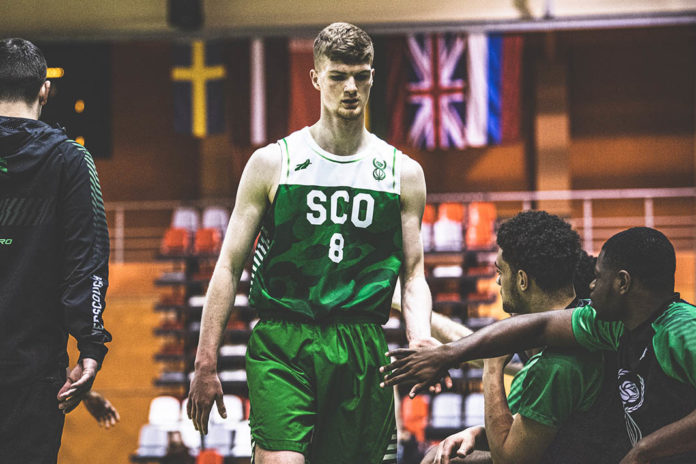 PRESTON, England – Myerscough guard Lewis McGlasson announced Friday his commitment to Blinn College (Texas/JUCO).
"It's obviously a great feeling," he said. "It's been my goal to play collegiate basketball in the United States so to realise that dream is amazing. Blinn is a great basketball programme, but it also has a family environment, which I love. They develop relationships with their players and are interested in furthering sporting and educational careers."
McGlasson, who is the current No. 6th ranked prospect in the DENG Camp Class of 2020, enjoyed a successful three-year career at Myerscough winning seven junior and being part of teams that won three senior national championships. He was also named Most Valuable Player of the 2018 Under-18 National Championship.
McGlasson started 11 of 15 games during Myerscough's run to the 2019-20 European Youth Basketball League regular season championship — the first-ever season-long title by a British basketball team at any level. He averaged 6.2 points across 26 contests over two years in the competition and reached double figures seven times, including a career-high 16 points against TTÜ Korvpalikool.
The 6-foot-4 and 83 kg native of Stirling, Scotland was also a key component in helping the Preston-based Academy claim a fourth EABL North Conference regular season championship and a place in the EABL Finals — cancelled by Basketball England due to the COVID-19 outbreak. He ranked fourth on the team in scoring at 11.6 points per game on 48.9 percent shooting.
McGlasson averaged 13.4 points in 16 games in NBL Division 2 in 2019-20. He reached double figures scoring 13 times, had three 20-point outings and had multiple 3-pointers made in 10 games. Myerscough had a 14-3 league record and 17-4 mark overall in the men's league, where it made a historic run to the National Cup semifinals.
"Myerscough has been a crazy journey — the coaching staff have helped me every step of the way in becoming the player I am today and I am forever grateful for that," said McGlasson. "From early morning workouts, the flights across Europe, the long bus trips, the time, effort, and commitment, they've invested in me as a player and a person."
Blinn finished the 2019-20 season with a 23-10 record, including an 11-8 mark in conference play. The Buccaneers reached the Region XIV Championship game under the direction of head coach Scott Schumacher where they lost to Angelina College.
Schumacher has been at Blinn for eight seasons where he also serves as the college's Director of Athletics. In 29 years as a junior college head coach, he has coached 12 NJCAA All-Americans and led three different programmes to a conference championship and a top 10 national ranking in the NJCAA polls.
More than 80 of Schumacher's players have signed Division I scholarships and more than 25 of his players have gone on to play professionally. He has had the privilege to coach an SEC Conference Player of the Year, a Big 12 Tournament MVP and a Big Sky Tournament MVP.
McGlasson joins Myerscough teammate Sam Chigbo, who announced his commitment to Blinn on Thursday, in Brenham, Texas.
@My_bball | #MySco